Safety. Service. Quality.
Safety Is Our First Priority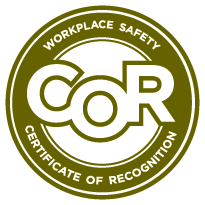 Safety is our first priority and our number one company goal is to ensure that every employee returns home to his or her family every night
Eng-Con is proud to have earned its Certificate of Recognition from the Alberta Construction Safety Association (ACSA) recognizing safe work practices and a healthy work environment. We hold the safety of our employees in the highest regard and require all new employees to undergo a mandatory safety training session with one of our highly trained Superintendents. Employees also regularly undergo job-specific training courses such as Confined Space Entry Training.
On most larger job sites, Eng-Con employs a loss-prevention company to ensure that all employees, subcontractors, suppliers and any other individuals on-site are complying with Alberta safety laws and safe practices are being followed.